Writing
As soon as I left drama school and landed in the real world, I started writing. My first real endeavour was a novel set in an insane asylum in the middle of a wood in the 1950's. It was really about the birth of modern psychiatry but it also served as a cathartic experience for my relationship with depression. The depression became manageable but the novel was not; hideously verbose I ended up turning it into a screenplay. After sitting on it like a bilious hen for a few years I finally decided to enter it for some film screenplay competitions. It won one! (The other four it didn't even place in, which just goes to show how subjective art it...)
My current writing project is a novel called...
Nora the Explorer
Nora The Explorer is a Comedy Feminist Sex book, inspired by my experiences as a Burlesque stripper, a woman and a citizen of the Britain in the Brexit Years. It is a satirical near-future look at Isolationist politics, chauvinism, reductive sexual outlooks and butt loads of sex (though no butt sex, sorry). It is silly and rude and heartfelt and not for the faint of heart.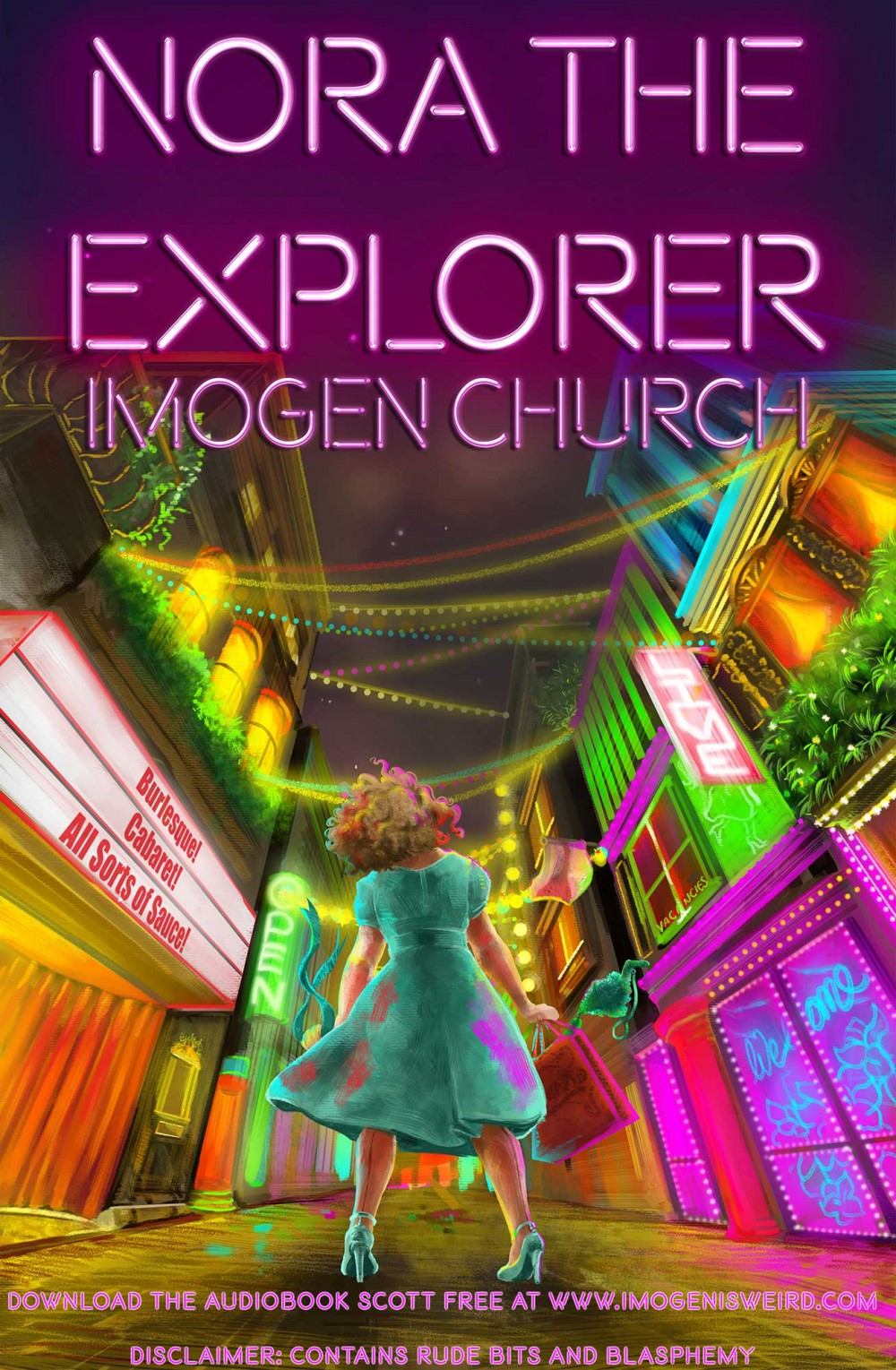 Unspeakable Audio
In league with the genius that is comedian Kris Dyer, and other illogically successful audio book narrators, we bring you Unspeakable Audio: bad books, worsley narrated. Amongst the featured hideous ear-horrors you can find two offerings from me: Araminta Posh and the Ugly Friend, and The Bloodsucker Fucker. More to follow next year...
bedlaM
Best Feature Screenplay Award at the Reel Women Film Festival Los Angeles 2009
With an award going on in my pants I then wrote other screenplays, including one about a travelling freak show, one about a shy girl who wakes up to find her soul is missing and another (a comedy horror) which is a cross between The Wicker Man and Shaun Of The Dead but with girls. This one has been picked up by a brilliant producer... more to follow on that.
Not from Round Here
Special Selection Screenplay Award at the Artemis Women in Action Film Festival Los Angeles 2015
As part of my (frankly outrageous) career in cabaret (see: Voice and Actory Stuff) I began writing and performing comic poetry. I have always had a love for nonsense poetry and poetry of the ridiculous and as a result, I smelted comic poetry and strip tease to become a Burlesque performer. This leads me to...
The Regina Monologues
Regina Fluff was a character I birthed in order to host cabaret evenings. Regina is an ex-Children's Poet Laureate who was struck off for revealing her brassiere live on Radio Four in 1958. She was blacklisted in 87 countries for her (offensive) poetry for children, which she believed would help children grow spinal fluid, but in fact has been proven to disturb them beyond assistance. I compiled the very best of Regina's poems and illustrations into a book called The Regina Monologues, which can be purchased for print or kindle through Amazon. You can stream the audio version for free through SoundCloud. All the proceeds of The Regina Monologues will go to the Testicular Cancer Charity It's On The Ball.
Support healthy balls!!!
Here are the links you need to endure Regina's oeuvre:
And here is a link to my audio comedy pilot of female morticians, death and maggots. Huzzah!
Writing Class
Since writing this, the world has gone insane, bigotry has become acceptable and the funding for 4Women has been revoked. The centre is now closed and all those women are isolated again. So…. yay Britain!
---
I ran a creative writing class for two and a half years at a women's centre in Norwich called 4Women, a safe space for women having a tough time. I met amazing people there, with incredible writing talent, often despite the harshest of circumstances. I had to quit my class when I became a mummy but I will never forget the lessons I learned there, both in life and writing. One of my students loved the class so much and had come such a long way that she took over from me and runs it herself, with hopes of one day becoming a teacher. Feels good. Like a chocolate bath.
Words are great.
Get writing.